Please kindly note that DeleteRecords does not own or operate the third party brand listed on this page. The information provided on this page is provided for reference purposes only.
InfoTracer is a non-FCRA compliant background information retrieval service. The website, a product of the Freedom of Information Act, grants individuals access to personal information about themselves or any other individual in the United States.

As an online repository for public records, InfoTracer compiles information on people from multiple government and private sources, and allows users to perform searches on various subjects. The platform provides background checks, reverse phone searches, reverse address lookups, and people searches. Through InfoTracer, users can quickly obtain information that they would ordinarily access via visits to courthouses and other public bodies that disseminate public information, all from the comfort of their homes.

The all-encompassing platform offers multiple search tools to streamline searches and obtain comprehensive records. In addition to the website, Infotracer provides mobile and desktop applications convenient for public record searches and background report generation.

InfoTracer's most popular product is the background report, also known as the 'Public Record Report.'' This report usually contains:
Contact details (phone number, email address, physical address)
Date of birth
Current and previous addresses
Court records
Criminal and arrest records
Arrest and bench warrants
Inmate records
Asset listings
Traffic offenses
Relatives and business associates
Vital records
Forum posts
Political donations
Professional and occupational licenses
Social media information

Although InfoTracer provides basic public information at little or no cost, access to additional information about a person requires payment. InfoTracer pricing plans are as follows:
$2.95 for a 5-day trial that provides the user with an unlimited search pass and unrestricted access to all reports.
$19.95 for a 1-time report that includes a standard online background check only.
$19.95 for a month to access premium data reports or unlimited background checks.
Despite the wealth of information offered by the website, there are several usage restrictions. For one, InfoTracer is not a consumer reporting agency under the Fair Credit Reporting Act (FCRA). Hence, it should not be used to discriminate against any person or deny them insurance, employment, benefits, tenancy, or similar economic or financial advantages. Also, because the company does not generate data but sources it from public records, the information provided to users may be occasionally inaccurate or outdated.
While InfoTracer provides services similar to other data broker sites, it sets itself apart with more factual reporting and a facial recognition search feature, making it the only one of its kind to offer such a service. With this feature, members of the public can search for individuals with their photos. However, this feature may be restricted in certain jurisdictions of the U.S. Therefore, to avoid violating the law, users must find out if there are any statutes in their area that disallow facial recognition when searching for people.
As an additional feature, InfoTracer provides authorized dark web scans. With a user's permission, the platform can scan the internet and mine information buried deep in the web. It can uncover or trace hidden photos and videos, unindexed arrest records, hacked credit cards, and other sensitive documents.

Though InfoTracer's products are generally beneficial to people seeking information on others, they can be pretty intrusive for search subjects. Therefore, InfoTracer allows members of the public to remove their profiles from its databases via an opt-out procedure.
How to Opt-Out of InfoTracer.com
Out of respect for an individual's privacy, the InfoTracer opt-out process was put in place to assist individuals who want to remove their information from the website. Any person looking to opt-out of the service can follow this process: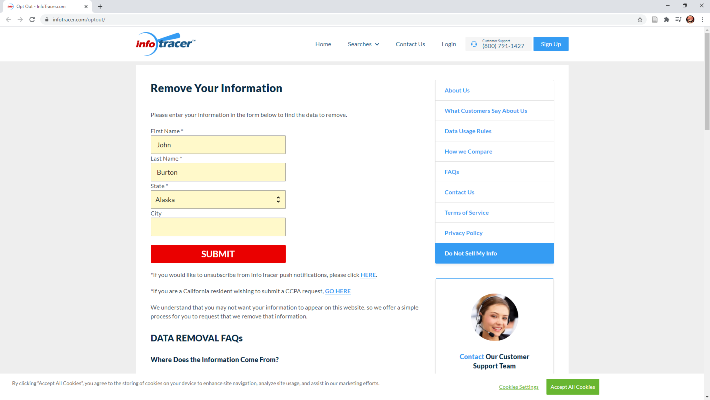 Fill in a first name, last name, city, and state. Then, click 'Submit.'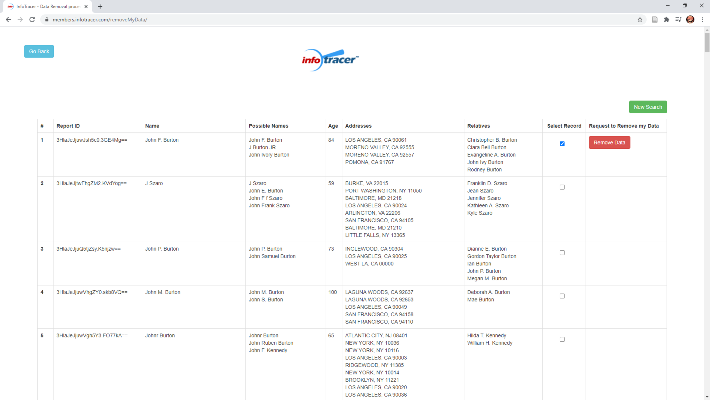 On the next page, find the appropriate entry or listing, click 'Select Record,' and then select 'Remove Data.'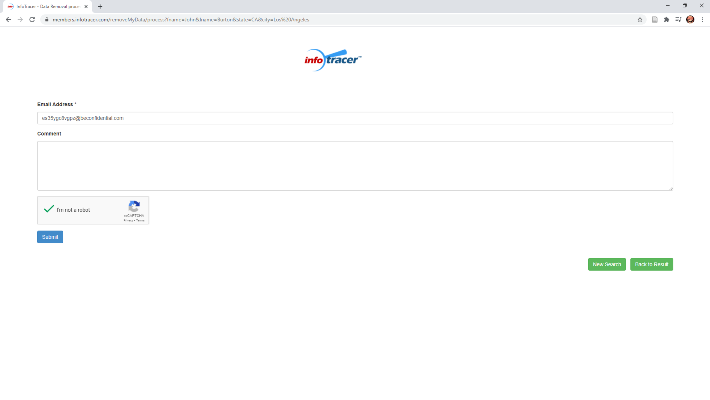 Fill out the form that appears, submit an email address for confirmation, and resolve the CAPTCHA.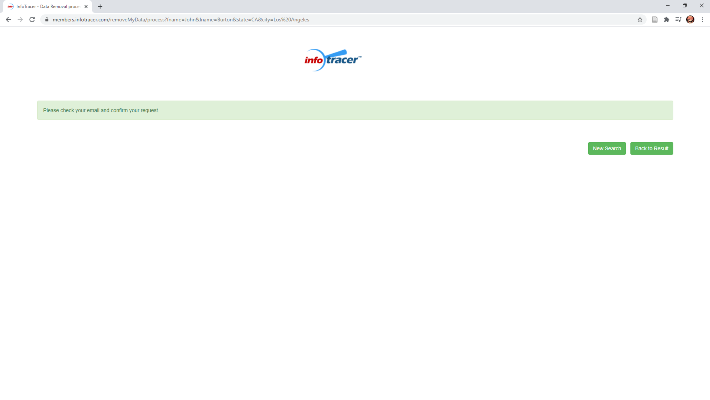 Open the confirmation email from InfoTracer and click the link within the message to conclude the opt-out process. Afterward, a notification will be sent to confirm that the request is being processed.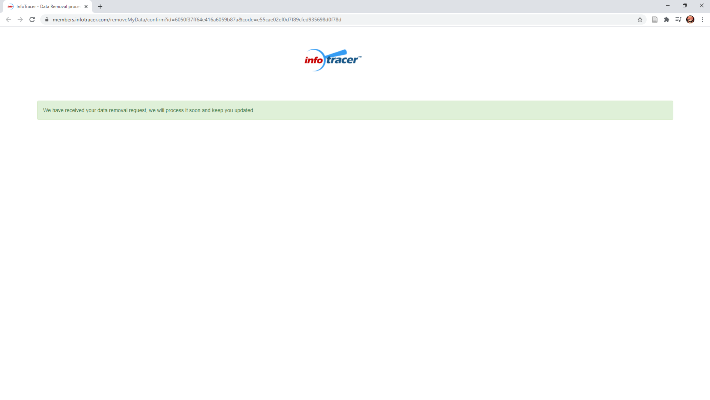 Note that opting out of InfoTracer is not an instant process. It may take about 72 hours to remove information from the website altogether.
Alternatively, if the individual prefers, they may fax or mail their Data Removal Request to (617) 507-0410 or:

Data Management Department
InfoTracer
PO Box 103068
Boston, MA 02113

However, the automated opt-out procedure is highly recommended because it is much faster.

What Difficulties Exist when Opting Out of InfoTracer.com
InfoTracer obtains its data from thousands of public and private sources such as courthouses, county, municipal offices, law enforcement agencies, etc. This implies that the information aggregated by InfoTracer is available on other domains and databases. Therefore, if an individual opts out of InfoTracer and removes their information, the data is not wholly removed from the internet. It is only removed from InfoTracer's databases. As a result, the information may remain accessible to members of the public who search hard enough. Hence, concerned individuals may need to request that other search engines and data broker sites remove the information from their databases as well.

Additionally, while processing a Data Removal Request means that the information will no longer appear in InfoTracer's search results, there is no guarantee that the information will not be available again on the website in some other form.
Find out if your personal information is exposed
Start by entering your name and search through multiple data brokers