Please kindly note that DeleteRecords does not own or operate the third party brand listed on this page. The information provided on this page is provided for reference purposes only.
PeopleFinders.com is an online service that provides publicly available information to interested persons. Users of PeopleFinder have access to a database of personal and contact information, criminal histories, property records, marriage records, and divorce records. Interested persons may also use this service for genealogy research, bankruptcy record search, foreclosures, court records, and reverse phone number search.
PeopleFinders integrates with multiple data sources to provide the requested information to users. However, the service is not a Consumer Reporting Agency (CRA), as defined by the Fair Credit Reporting Act (FCRA). Consequently, users cannot use information obtained through PeopleFinder for employment screening or making decisions about creditworthiness and tenant screening. Nevertheless, performing a search on PeopleFinder is legal if the searcher intends to use the information obtained for general reports and basic background checks in the United States.
PeopleFinders.com provides services such as searches for phone numbers, emails, and contact information for free. However, access to its comprehensive collections of public records is only available to paid users. Paid users may choose to pay a one-time service fee or sign up for membership billed monthly or annually.
PeopleFinders collected six (6) categories of data from users to optimize user experience - but not wholly. The service gets these data via various means, including:
Information collected directly from users: This includes data collected when:

a client registers for PeopleFinders' services, e.g., name, email address, postal address, location, professional or employment details.

a client pays for a service through a third-party payment processor, i.e., billing information used to verify and complete the purchase transactions.

Information collected indirectly from users: This includes data collected when a client visits the website and stays on the website for any period. E.g., device information and features, web browser features, geolocation, and network activity. PeopleFinder collects these data through cookies and Google Analytics. Users may opt-out at the browser level by setting their browser to reject cookies and clearing cookies upon exit. Opting out of Google Analytics is also possible, and a user may use privacy browsers and virtual private networks to mask browser and network activity. However, doing these may impact user experience - a negligible inconvenience for privacy all the same.
Information collected from third parties: PeopleFinder also accesses certain information from partners, data licensors, and affiliated service providers. The service claims to collect this information to update the existing details on users and supplement data it had collected directly. PeopleFinder uses this information for internal business analysis or other business purposes such as promotions, offers, and targeted communications regarding products and services.
PeopleFinder offers several ways for users to delete their personal information and information collected thus far. Interested persons may also use third-party automated tools designed to remove personal information upon request.
How to Opt-Out of PeopleFinders
Concerned persons who appear on PeopleFinder may remove their personal information from the service manually by following systematic instructions. For ease of accomplishment, this removal is completed into phases viz:
Phase 1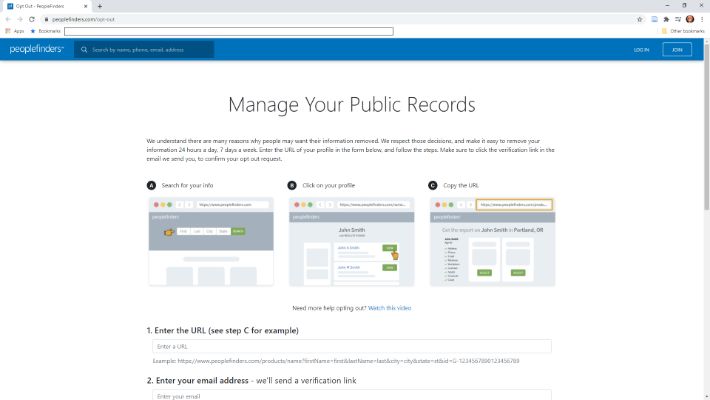 Input the full name of the concerned person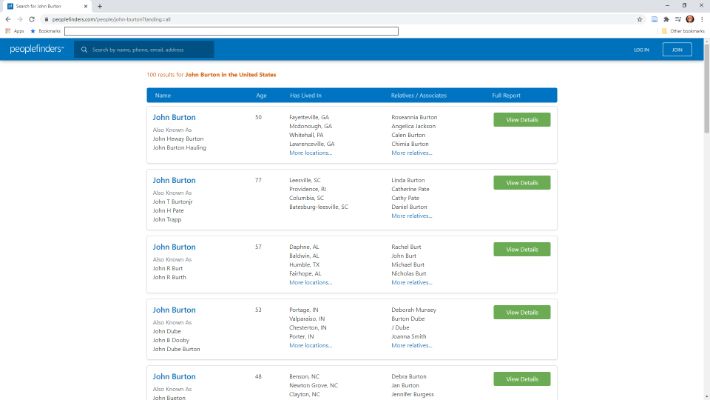 Provide the state of residence or leave blank to see nationwide results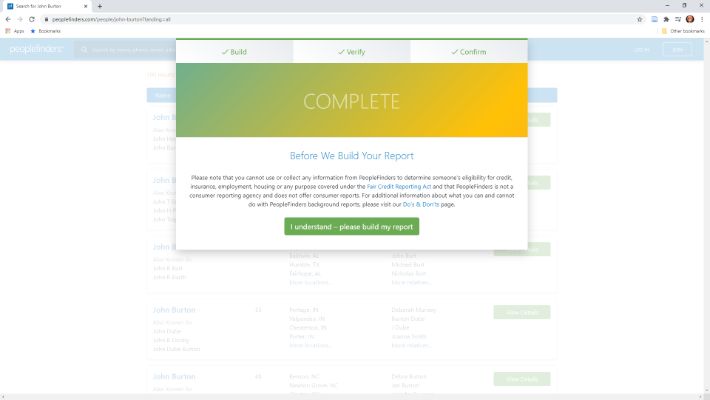 Upon displaying search results, click on the search result of interest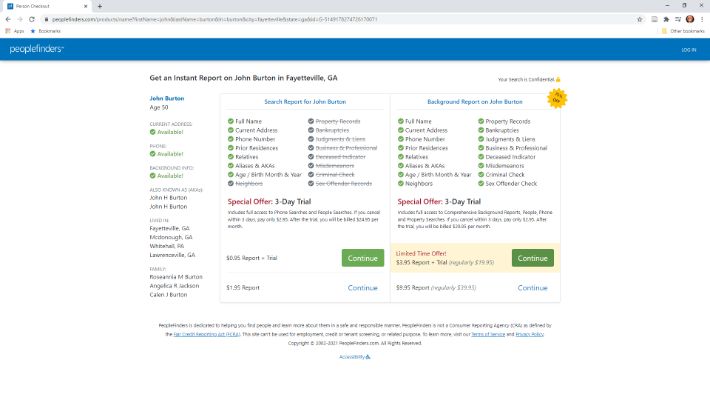 Copy the URL for the search result and proceed to phase 2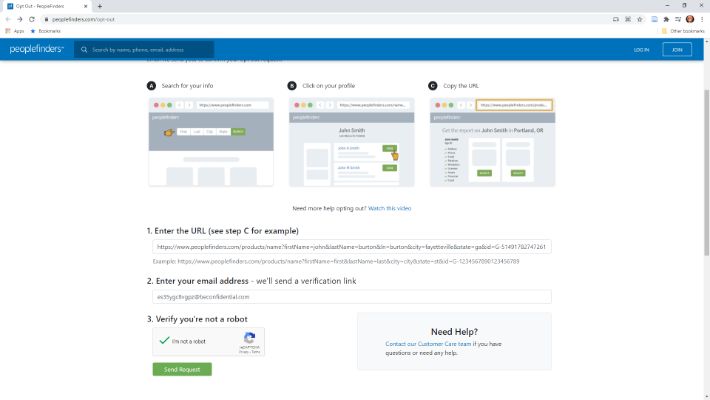 Phase 2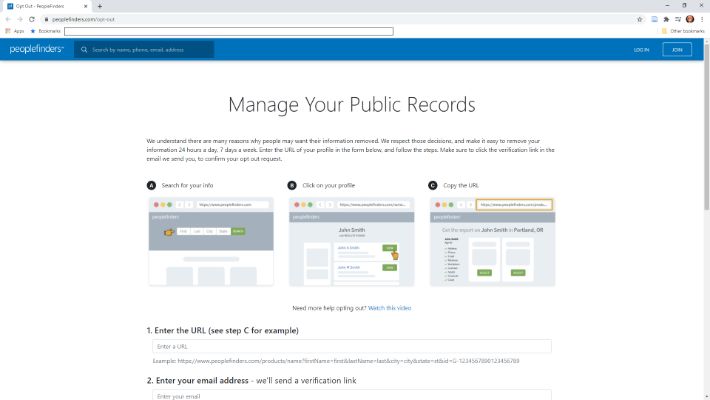 Enter the URL copied earlier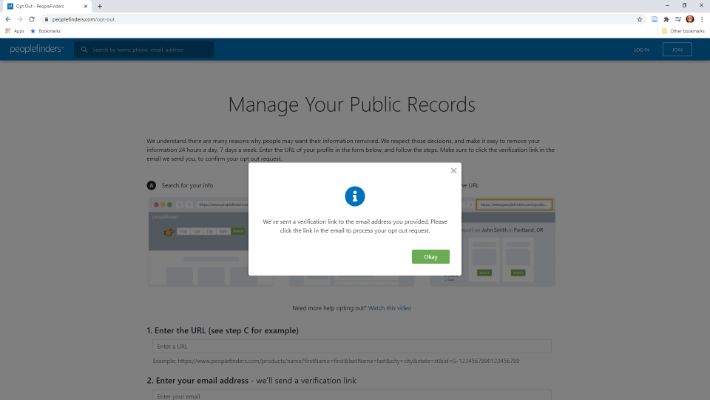 Provide an email address for confirmation and correspondence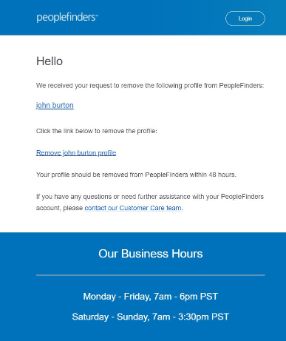 Complete the reCAPTCHA challenge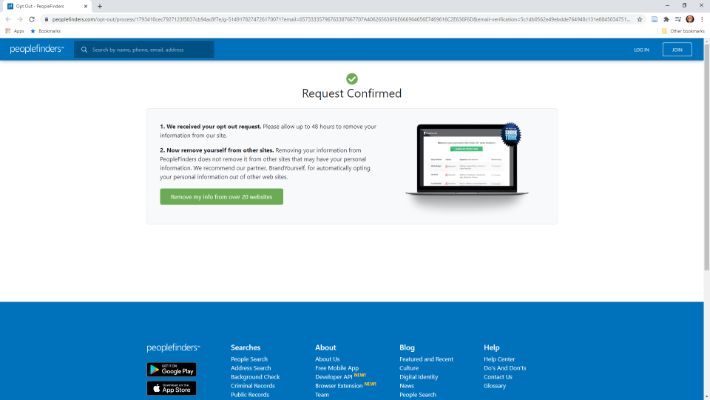 Generally, the removal request is complete within one business day. The request may take longer during weekends; this is normal. Meanwhile, PeopleFinders protects the email address provided for confirmation under its privacy policy. Ergo, the service will not sell the data or use it for any other purpose without the express and unequivocal consent of the owner.
Furthermore, the individual submitting a removal request need not be a user of PeopleFinders' services or create an account before making this request. In the same vein, requesting the removal of personal information from the database is free.
The right of individuals to prohibit PeopleFinders from monetizing their personal information is pursuant to the California Consumer Privacy Act (CCPA). Also known as 'Do Not Sell My Info,' the CCPA is legislation based on consumer privacy rights and how to exercise them viz-a-viz the Right to Know, the Right to Delete, the Right to Opt-Out of Sale, and the Right to Non-Discrimination.
However, this legislation is not watertight and majorly applies to residents of California. Also, the business may still deny requests, and there are internal policies that make opting out difficult for concerned individuals.
What Difficulties Exist when Opting Out of PeopleFinders
PeopleFinders maintains a comprehensive database of individuals whose information is in their custody. While individuals have the right to request a removal and PeopleFinder has to respond, requesters often face some hitches in the process.
For one, PeopleFinders only accept requests for removal directly from the individuals whose information is on the database or from a registered authorized third-party agent. In processing the expungement, the service may require verification of identity through government-issued IDs and data elements. Again, PeopleFinders' privacy policy protects these details.
Even if the requester provides this information, PeopleFinders has the prerogative to reject opt-out requests except as prohibited by applicable law. Thus, in your correspondence with PeopleFinders regarding an expungement, consider quoting applicable law to buttress your point. However, be careful not to cite arbitrary or irrelevant law as the trained staff handle these expungement requests.
Do not submit a request for expungement via fax or postal mail. PeopleFinders will ignore such requests. Instead, contact the help center by using the contact form on https://www.peoplefinders.com/contact. Concerned persons may also call customer service during business hours at (800) 718-8997.
Business Hours:
Weekdays: 7:00 A.M. - 6:00 P.M. PST
Weekends: 7:00 A.M. - 3:30 P.M. PST
PeopleFinders is at 1915 21st Street, Sacramento, CA 95811.
Meanwhile, PeopleFinders informs concerned persons about residual information even after requests for expungement. The service claims the prerogative to retain certain information for recordkeeping purposes and the existence of residual information in its databases. PeopleFinders will not change or remove this information. Likewise, the service absolves itself from personal information on the databases of affiliated third-party service providers. PeopleFinders may only process requests for the removal of information on proprietary databases.
Find out if your personal information is exposed
Start by entering your name and search through multiple data brokers