Please kindly note that DeleteRecords does not own or operate the third party brand listed on this page. The information provided on this page is provided for reference purposes only.
PeopleLookUp.com started as a service that allowed interested persons to reconnect with lost friends and acquaintances. Then, the service rebranded as US Search, one of the subsidiaries of PeopleConnect. Today, PeopleLookUp is a database that provides publicly available information on personal and contact information, in addition to criminal records, reverse phone search, property records, social network search, online profiles, email search, and background check.
As it is part of a conglomerate of databases that provides access to publicly available information, PeopleLookUp draws from multiple data sources to provide the requested information to users. However, the search results are not compliant with Fair Credit Reporting Act (FCRA) standards. Thus, while this service is legal, information retrieved may only serve the purpose of satisfying clients' curiosity, ensuring personal protection, and performing a basic background search.
Given the sensitivity of the information available on its database, PeopleLookUp further indemnifies itself by requesting that users agree to terms of service. The terms of service more or less state that clients cannot use the information obtained to make decisions about consumer credit, hire employees, or filter prospective tenants. All these uses require FCRA compliance, which PeopleLookUp does not meet in its services as it cannot guarantee the accuracy of information.
At first, searching on PeopleLookUp appears free. However, after searching for public records on the individual of interest and providing their name and email address, users must sign up for membership to access the full report. Apart from these, the site also collects information from visitors and clients such as:
Direct information provided during registration: Generally, these include full name, mailing address, zip code, email address, phone number, birth date, and marital status. Besides these, PhoneLookUp also collects information via surveys, participation in forums, and billing information provided during payments. Likewise, users who sign up with social logins, such as Facebook, authorize PeopleLookUp to collect additional information continually. The user must revoke authorization from within their social account. Doing this does not delete their PeopleLookUp account or impact user experience in any substantial way.
Direct information automatically collected via cookies: PeopleLookUp automatically collects and stores certain information from visitors and clients during their stay on the website. The service does this by sending and storing cookies on clients' browsers. Cookies enable it to offer a personalized user experience. However, the service also collects information such as internet protocol (IP) addresses, browser type, Internet service provider, and broad demographic information at the same time.
Indirect information from third parties: PeopleLookUp also receives personal information from third-party affiliates, brands, and advertising partners when clients visit other websites. Users can manually delete these cookies or configure their browsers to reject cookies in the 'Cookies and Site Permissions' section of browser settings. These measures are significant because PeopleLookUp does not respond to or honor Do Not Track (DNT) requests from browsers. However, note that stymying these activities and protecting private data comes at a cost to the client. For one, autologin features will be unavailable ' and minimally impact user experience.
Clients may delete their accounts at any time or stop using PeopleLookUp services to halt the collection of information related to behavior and interactions with products and services. For persons whose personal information appears in searches, PhoneLookUp offers several ways to delete public records. Concerned persons may also use third-party automated tools and services to remove personal information.
How to Opt-Out of PeopleLookUp
Concerned persons who appear on PeopleLookUp may remove their personal information from the service manually viz:
Visit PeopleLookUp opt-out page.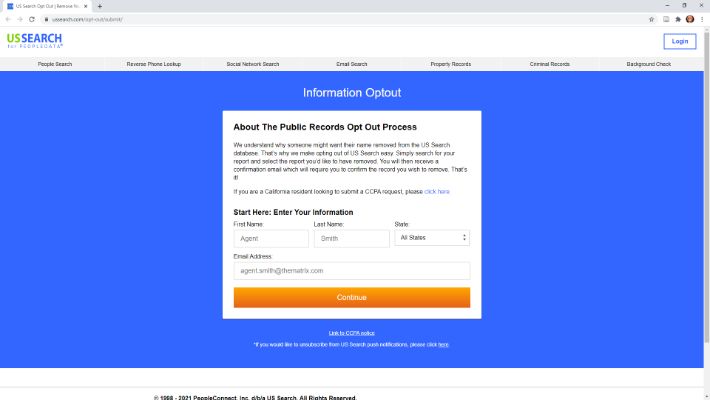 Provide your name and email address.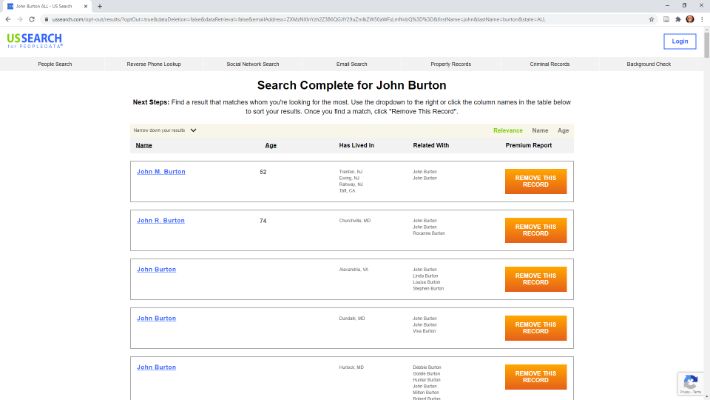 Peruse the search results and identify the search results that pertain to you.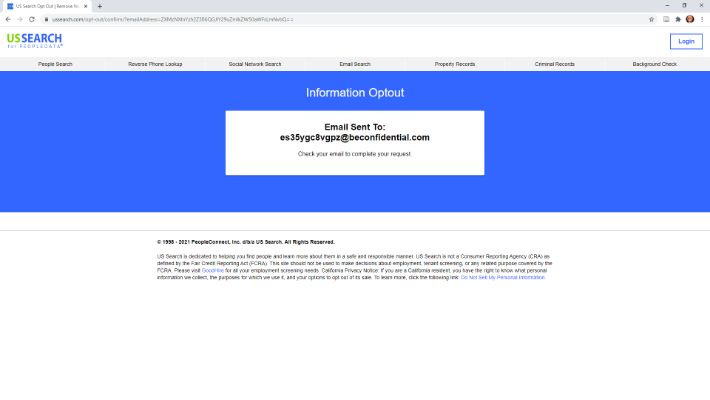 Click 'Remove this record.'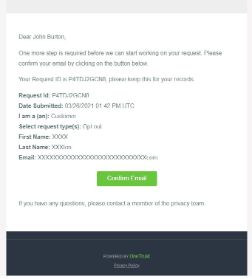 Proceed to check your email inbox (and spam folder). Confirm the expungement request.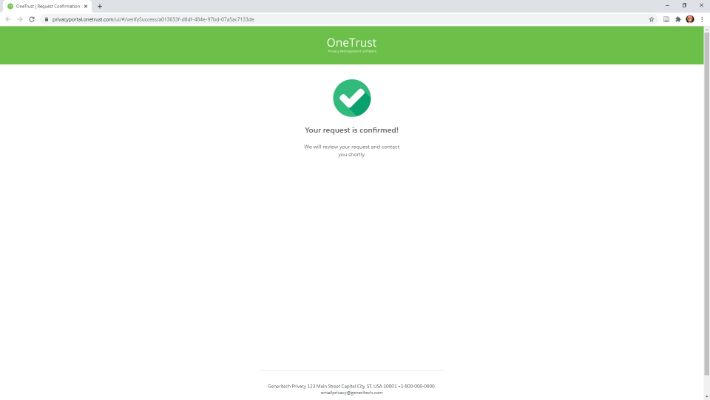 Generally, it takes PeopleLookUp fifteen days to complete the removal request, but this may take longer. Persons who find multiple search results related to them must submit individual expungement requests per result. The service will ignore bulk opt-out requests made contrary to this directive.
Meanwhile, the email address submitted during the removal request is protected under the company's privacy policy. Therefore, requesters can rest assured that PeopleLookUp does not sell data or use it for commercial purposes without the unequivocal consent of the owner. And by law, the service must wait twelve months before making such a request.
Furthermore, the individual submitting a removal request need not be a user or create an account. Requesting the removal of personal information from the database is free and based on the California Consumer Privacy Act (CCPA). The CCPA is a legislation that protects consumer privacy rights and facilitates the enforcement of this right viz-a-viz the Right to Know, the Right to Delete, the Right to Opt-Out of Sale, and the Right to Non-Discrimination.
However, this legislation is not without loopholes and provisions permitting PeopleLookUp to deny an expungement request to requesters under certain circumstances. These cause hurdles that a requester must overcome in the quest to protect privacy. Concerned persons may attempt to resolve these conflicts on their own or use third-party intermediaries.
What Difficulties Exist when Opting Out of PeopleLookUp
Allowing the removal of personal information from its database is a courtesy that PeopleLookUp extends to interested persons. However, there are system checks to ensure only concerned persons may request a removal, ensure that such removal does not infringe on the person's rights, and that processing such removal requests does not expose PeopleLookUp to civil liabilities.
First, public records on one person may appear multiple times on the database as PeopleLookUp does not merge similar information. Thus, the concerned person must find and request expungement for each record. Still, doing this does not guarantee that the information will not appear on the database again if there are minor changes in name and area code.
Furthermore, remember that PeopleLookUp is a subsidiary of a larger company that provides access to publicly available information and that in itself, PeopleLookUp has affiliates and third-party partners. Thus, PeopleLookUp can only guarantee the removal of records on its database. Information on the concerned person may still appear on the databases of several other companies offering public records search services.Concerned persons may email PeopleLookUp at support@ussearch.com or call (888) 712-0108. Note that support is only available to respond to inquiries from 7 am - 7 pm PST on Mondays to Thursdays. The entry and response window is shorter on Friday from 10 am - 10 pm EST.
Find out if your personal information is exposed
Start by entering your name and search through multiple data brokers