Please kindly note that DeleteRecords does not own or operate the third party brand listed on this page. The information provided on this page is provided for reference purposes only.
RecordsFinder, also known as PublicRecordsFinder, is a fee-based, non-FCRA compliant broker of over 2 billion public records. The website offers a speedy and inexpensive way to obtain public data on United States citizens. A product of Accucom Corporation, the site indexes publicly available data from courthouses, social networks, police departments, sheriff offices, and other government or public repositories and provides them to paying users. These dossiers can contain contact information, civil records, criminal records, vital records, and additional public information about a U.S. resident.

RecordsFinder has seven specialized search engines:
Name Search
Phone Search
Email Search
Address Search
User ID Search
VIN (Vehicle Identification Number) Search
License Plate Search

Members of the public can use the above tools to find and review a person's profile or report. This can be done by entering the appropriate search query into a tool, such as a full name, address, state, house number, license plate number, etc. Users can also search by state by clicking the map on the homepage. Furthermore, it is possible to search for particular records, for instance, arrest records, birth records, judgment records, bankruptcy records, asset records, and more.

Although everyone has access to the website, there are limitations of use. RecordsFinder explains these Do's and Don'ts under Usage Rules. The summary of it is that individuals are permitted to use the site for any reason except:
Those requiring Fair Credit Reporting Act (FCRA) compliance: tenant screening, employment eligibility, scholarship qualification, etc.
For acts that violate federal or state law, including harassment, stalking, identity theft, discrimination.
To serve as a substitute for a formal criminal background check.

Given the amount of personal information disseminated by the site, individuals may regard this exposure as a violation of their privacy. Because in most cases, they did not consent to the distribution or sale of their information to third parties, even though the information is technically classified as 'public.' In response, RecordsFinder provides an opt-out system to take down information from the site. Record owners and other concerned persons can initiate this process.

How to Opt-Out of RecordsFinder
RecordsFinder has a mail, fax, and online opt-out process that interested parties can use to bring down listings from the site. The online procedure is the most recommended and fastest, and is as follows:
Navigate to the website's footer. Under Company, click 'Do Not Sell My Info,' or under Legal, click 'Opt Out.' Either one will lead you to RecordsFinder's opt-out page.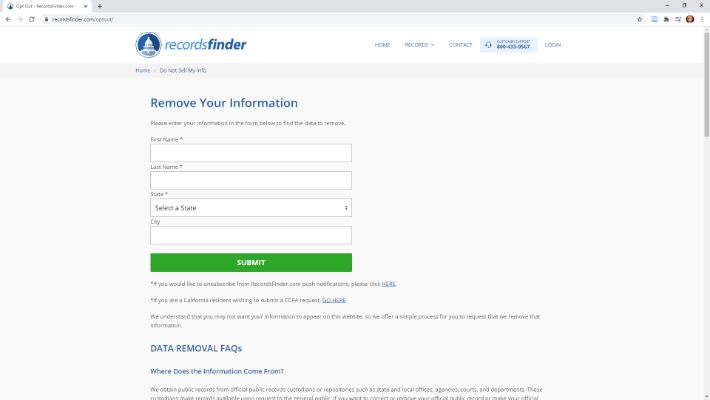 Provide your first name, last name, and state. You may add a city, but it is not mandatory like the others. After, click 'Submit.'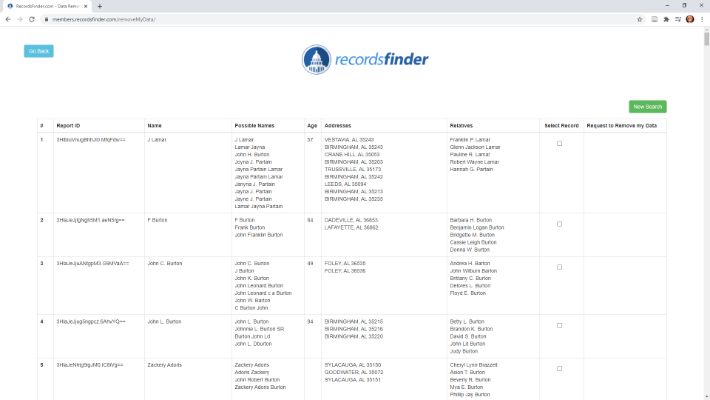 Find your listing by scrolling through the returned records. When you find it, tick 'Select Record,' then the red 'Remove Data' tab that appears.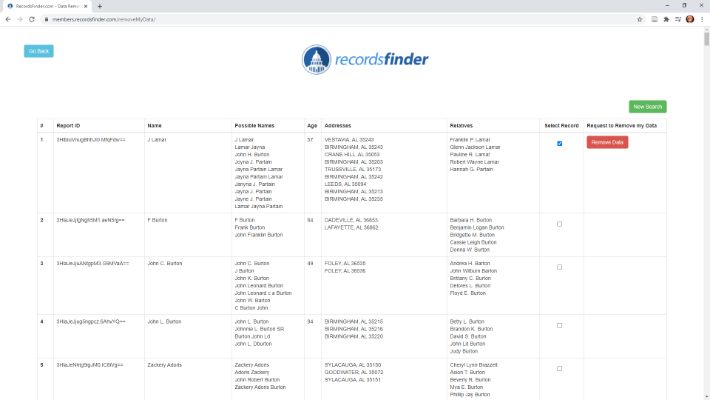 On the following webpage, provide your email address, perform the CAPTCHA, and select 'Submit.'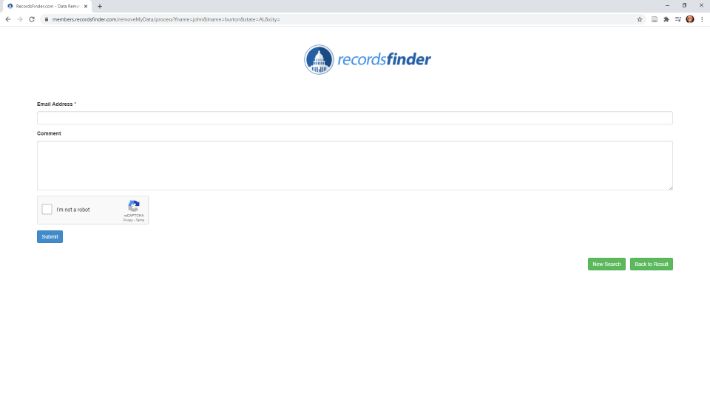 Open your email inbox to view the message from RecordsFinder. Click the link in the email to confirm the data removal request.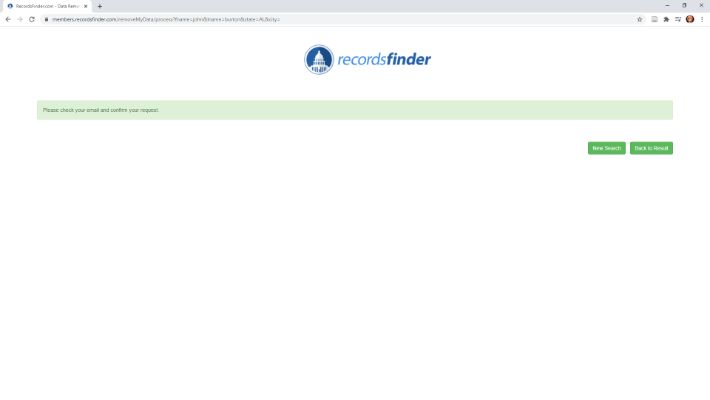 Afterward, allow some time for RecordsFinder to process the request. It is advisable to search the site after a few hours or days to ensure the record is no longer displayed.

On the other hand, the interested party can send a mail or fax request to the Data Management Department:

Data Management Department
RecordsFinder.com
PO Box 130369
Boston, MA 02113

Fax: (617) 507-0410

What Difficulties Exist when Opting Out of RecordsFinder
Generally, persons who request to remove records from RecordsFinder can do so without complications. The site's opt-out process is quite effective. If at any point the requester faces any difficulty, it can be easily communicated to the 24/7 customer support team via email using a web form or with the following details:

227 Lewis Wharf
Boston, MA 02110
Phone: (800) 433-0567

The team responds to these requests promptly.

If the complaint concerns billing, the individual can use the information above to contact customer service or check the Frequently Asked Questions page for popular billing and account-related questions.

However, it should be noted that removing information from the site does not guarantee that it will not show up in future search results. RecordsFinder obtains its information from public sources. As such, there is a genuine possibility that a person's record, though already deleted, will come up again after a search. The website advises the aggrieved party to petition the actual record custodian for removal to ensure the record is not reaggregated in subsequent updates.
Find out if your personal information is exposed
Start by entering your name and search through multiple data brokers