Please kindly note that DeleteRecords does not own or operate the third party brand listed on this page. The information provided on this page is provided for reference purposes only.
ThatsThem is a free search engine that allows people to conduct personal information searches, like the name, address, phone number, or address. The search engine can also be used to search for email addresses, IP addresses, or VIN. Even though free, any individual who wants to use this service must register an account. However, ThatsThem is a non-Fair Credit Reporting Act (FCRA) compliant, which means FCRA related searches like employment or personal credit cannot be conducted on the website. Apart from being a non-FCRA complaint, the website does not retain any minor information on the website.

Information used on ThatsThem is obtained from public and private websites. Conduct a non-FCRA search on ThatsThem using the name, zip code, phone number, street, state, email, IP address, or vehicle identification number. The desired result will include the owner's full name, contact information, current address, age, birth month & year, relatives and associates, and address history.

Users of ThatsThem will collect certain information when using their search services. The user will usually provide this information when they are:
Register or login to the website
Conducting search
Opting out a record; or
Pasting an online review or comment
Contacting the ThatsThem customer care service for a complaint, inquiries, or request.

The following information will be collected on the website to improve the user's service quality
They collect personal information which includes the name, email address, phone number, and address. This may also include the payment and authentication information depending on the services that the user requests from ThatsThem.
They receive the user's IP address, device identifiers( and other unique identifiers), the pages visited, keywords searched, links clicked, and any other interactions with ThatsThem.
They also collect domain names, browser types, and version, and referring URLs through cookies and other technologies.

ThatsThem may share the personal information of their users with marketing partners who they believe may offer products and services that may be of interest to the user. They also share information with third-party service providers who are affiliated with them or work on their behalf. However, the use and disclosure of the information will be by the privacy policy of ThatsThem.

ThatsThem affords its users the option of contacting them to request that their information not be shared through their search result or to any other third party website or merchants. This process is known as opt-out, this means that ThatsThem will not have the user's information once it has been removed from their domain.

How to Opt Out of ThatsThem
ThatsThem provides its users the chance to manually opt-out. Below is a step by step guide to follow when requesting an opt-out:
The user will need to open ThatsThem on their web browser.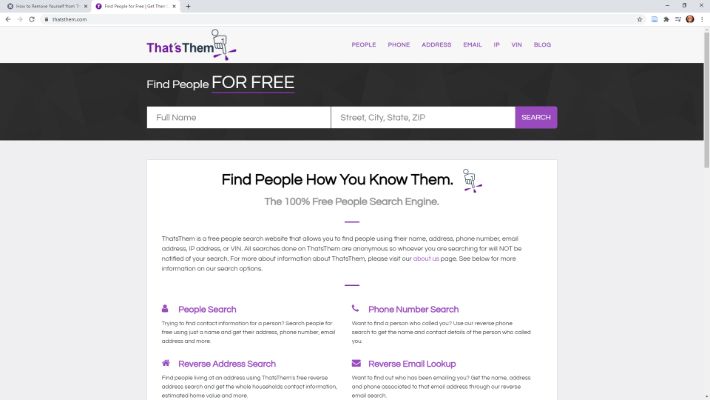 Once opened, they will need to scroll down to the end of the page. At the end of the page, on the right side of the page, there is an 'Optout of Search' link. Click on it.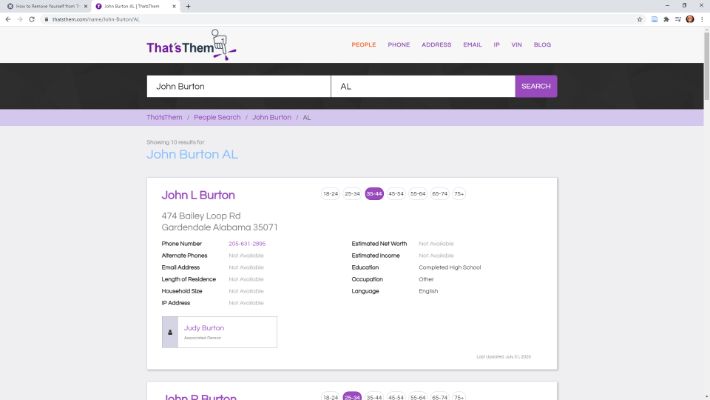 The user will be required to fill a form with their name, email, phone, street, city, state, and zip code.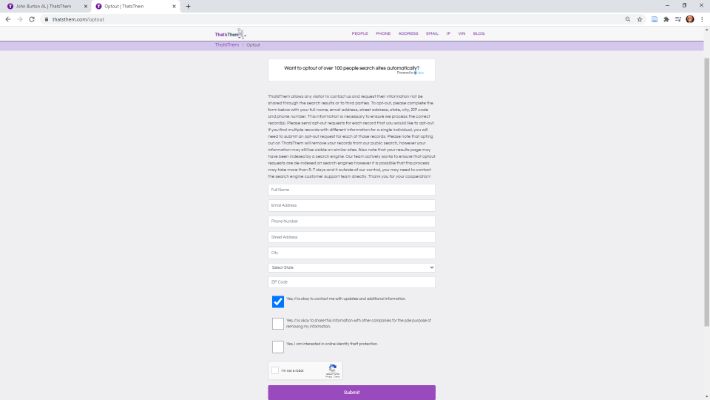 Complete the opt-out request, by completing the CAPTCHA, and clicking on submit.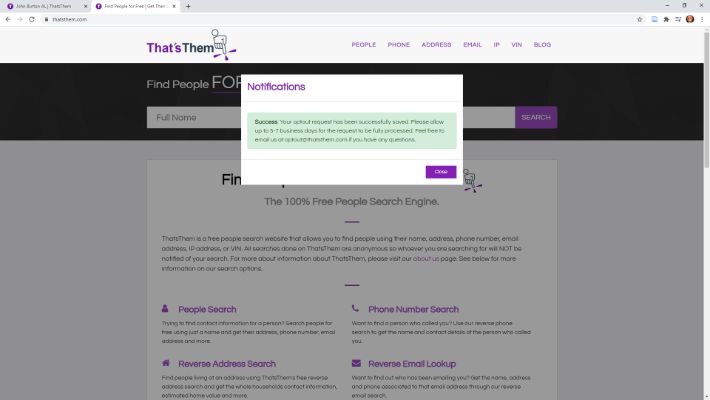 It is important to note that, if the user desires to opt out of more than one record, they must fill the form for each record they want to be deleted. Opting out of ThatThem does not delete the records from other third-party websites or from the agencies that maintain them.

If the user encounters any problem while using the opt-out service they can contact ThatsThem by filling the online contact form. This request may however take 5 to 7 days for the contact team to respond.
What Difficulties Exist when Opting Out of ThatsThem
To opt-out of ThatsThem is pretty easy for its users. All they need to do, submit an opt-out form to get their information from being shared on search pages or to third parties. Although, the results page of the user may have been indexed by a search engine. The Thatsthem team will however de-index it on the search engine within five to seven days. Any difficulty this may pose, the user is advised to contact the engine customer support team by filling the contact form online.
Find out if your personal information is exposed
Start by entering your name and search through multiple data brokers