Please kindly note that DeleteRecords does not own or operate the third party brand listed on this page. The information provided on this page is provided for reference purposes only.
ID True is a public record search service that provides users with information aggregated from different public records sources. Individuals who use this site must be 18 years or above. The site accumulates its data from various public databases, including the federal, state, county, city, and local municipalities. Users can use the site to carry out background history checks. They can also perform people searches and reverse phone number lookups.
With an ID True background check report, users can obtain the following information on the subject of a search:
Phone number and other contact information
Arrest and criminal records
Current and former residential addresses
Email addresses
Social media accounts
Sex offender reports
Marriage records
Divorce records
Landlord eviction proceedings
Liens
Bankruptcies
Traffic violations
Information on family members and associates

Access to ID True's web-based reporting portal is available to paying users. A monthly subscription to the site provides individuals with unrestricted access to the background check reports.

Users can find information with ID True's search engine by inputting a person's first name, last name, and U.S state (selected from a drop-down menu). ID True also has a reverse phone lookup tool. By entering a phone number into this tool, it is possible to retrieve the name of the individual, the type of phone line (cell phone or landline), the network provider, and social media profile(s) associated with the number. More information on ID True, its features, and how to customize searches are available on the resource center page.

It should be noted that ID True is not a credit reporting agency and only allows users to carry out searches that are not compliant with the Fair Credit Reporting Act (FCRA). Under the site's terms of service, individuals cannot use any of the search features for the following FCRA purposes:
Education, scholarships, or fellowships screening
Insurance, including health insurance
Credit reports
Employment screening
Tenant screening
Benefits, privileges, and other related decisions
Harassing or stalking someone

Records available on ID True can be removed by the subject of the information. The site has an opt-out feature to this effect. Upon successfully opting out, the selected report will be erased from the database. In subsequent searches, this information will be unavailable to inquirers.

How to Opt-Out of ID True
Opting out of ID True ensures that all records and information relating to a person are removed from the site's database. The opt-out process is manual; therefore, inquiries must follow specific steps to remove desired reports. ID True immediately deletes such search reports from its database once the opt-out process is completed. The steps to remove information are as follows: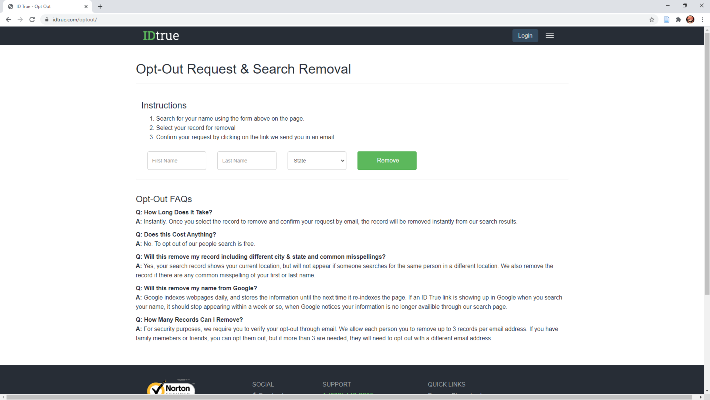 Click the 'This is me' button.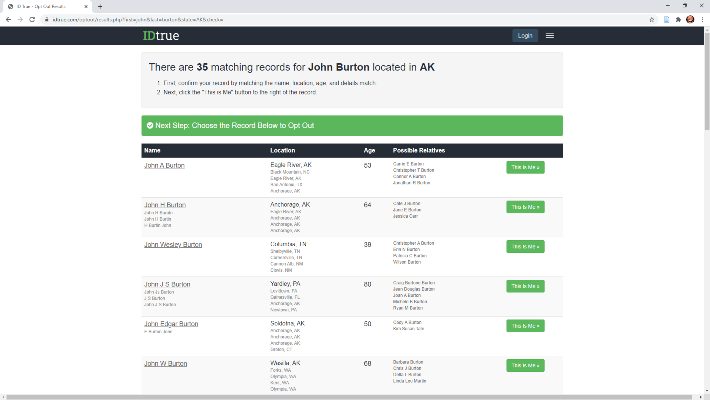 Input an email address to confirm the removal action and tick the disclaimer box. Complete the reCAPTCHA.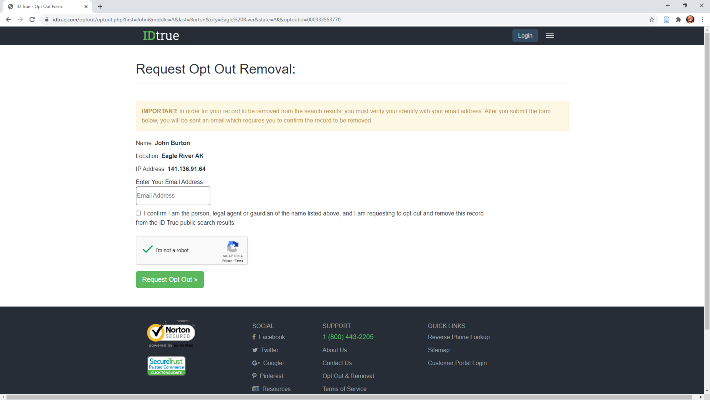 A confirmation link will be forwarded to the provided email address. Upon receiving this email, open it and click the necessary link to complete the process. The record will then be removed from ID True's public records system immediately.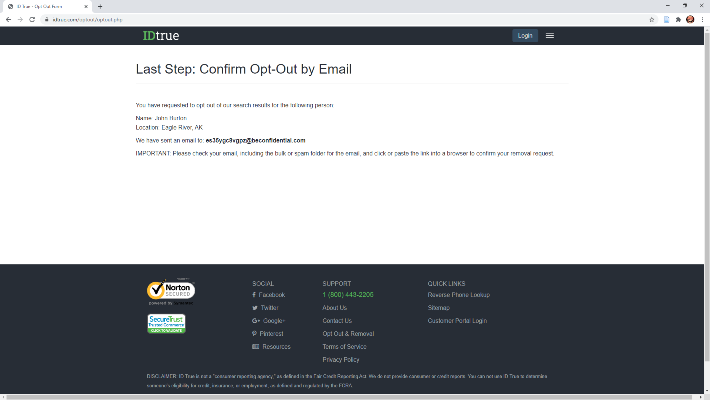 Deleting personal information from the site does not require a subscription fee.

There may be multiple reports that contain an individual's information on ID True. The site allows the removal of just one record at a time, and the deletion of three records per email address. Individuals can also request to remove information that belongs to their family or friends, but with different email addresses.

The site's customer support team can be contacted via phone at (800) 443-2205 for assistance or inquiries concerning the opt-out process. ID True's customer support is available daily with no closing period.

What Difficulties Exist when Opting Out of ID True
Opting out of ID True erases personal information contained in reports or listings from the site. Typically, users are unable to view such reports after the removal.

However, some difficulties may occur that can frustrate this process. For instance, a background or public record search may bring out multiple reports in search results. An individual will have to deal with each report separately to ensure that they are deleted. Furthermore, the email address that an individual uses to opt-out of the site is only valid for a maximum of three reports. Persons who have more than three reports to delete will have to use another email to proceed.

Although using ID True's opt-out process will remove a listing instantly, it may still be available on search engines like Google for a while before removal. These search engines periodically index web pages and return the same information from websites until the next time those websites or pages are re-indexed. As a result, an ID True report link may be available on the search engine even after removal on the site. However, this information will stop appearing on search engine results pages after a while.

Opting out on ID True does not guarantee that other records or information concerning a person will not reappear in the future. While it is possible to remove existing reports from the site, there are no provisions to stop newer public records with the same person's information from being aggregated by the site. Since ID True obtains data from many sources, the chance of this occurring is high. However, persons experiencing any difficulties opting out from ID True can get assistance from the support team at (800) 443-2205.
Find out if your personal information is exposed
Start by entering your name and search through multiple data brokers