Please kindly note that DeleteRecords does not own or operate the third party brand listed on this page. The information provided on this page is provided for reference purposes only.
InfoRegistry offers a legal means for individuals to conduct thorough investigations on others without hiring a private investigator. The site provides comprehensive background checks, court and criminal records searches, and reverse phone number lookups. A reverse phone number search allows individuals to find background information on others using just a phone number. An InfoRegistry background report may comprise the following data:
Aliases
Date of birth
Maiden names
Neighbors' and relatives' information
Civil filings and lawsuits
Misdemeanors and felonies
Marriage and divorce records
Arrests and warrants
Property ownership records
Convictions and incarcerations
Address history
Telephone numbers
Spouses or roommates
Email addresses
Neighborhood statistics
Potential associates

The website has information on over 250 million U.S. citizens. Individuals can search for people using names, phone numbers, email addresses, physical addresses, etc. The site also displays consumer testimonials.

For individuals to remove their data from the site, they have to contact InfoRegistry's Opt-Out Compliance Department via mail or fax:

P.O. Box 990043
Boston, MA 02199
Fax: (617) 507-0410
How to Opt-Out of InfoRegistry
Individuals may opt-out of InfoRegistry if they fall under any of the criteria listed in the company's opt-out policy. The policy states that state, local, or federal law enforcement officers/public officials, or other individuals whose jobs create a likelihood of death or serious bodily harm, may remove their information from the site. Also, victims of identity theft and those at risk of physical harm can request removal. Again, anyone who has proof that the record on the site is incorrect or expunged can petition for removal.

People who meet the criteria above can follow these steps to opt-out of InfoRegistry:
Compose a written application. It should contain the URL of the page reflecting the personal data and a valid reason for opting out (why the record is inaccurate and harmful to you).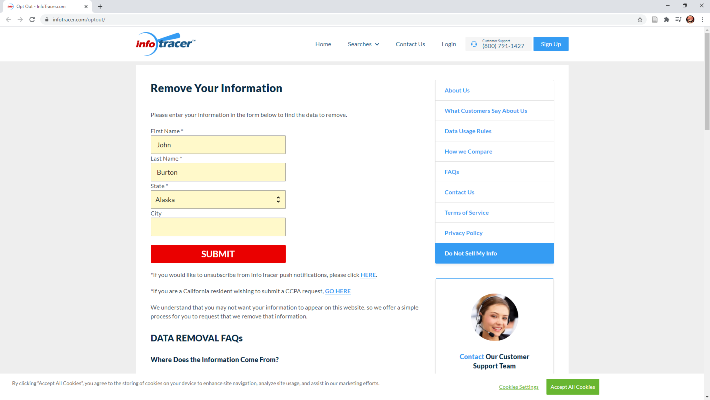 Enclose or attach a copy of your present driver's license or state I.D. and copies of any applicable court order. The application should also include the following details: full name (and any aliases), birth date, current and previous addresses, telephone number, and email address.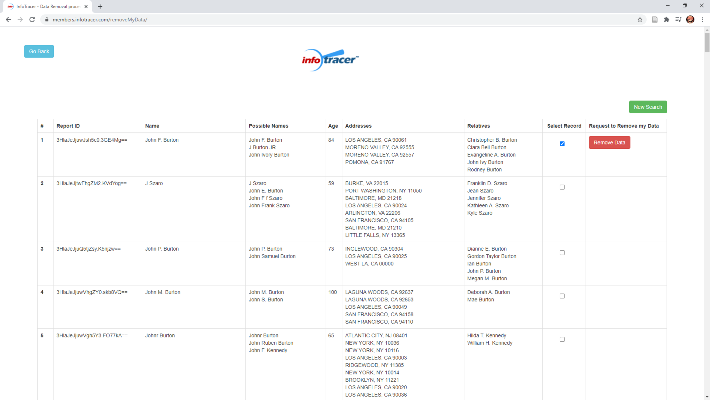 Send the request to the address below: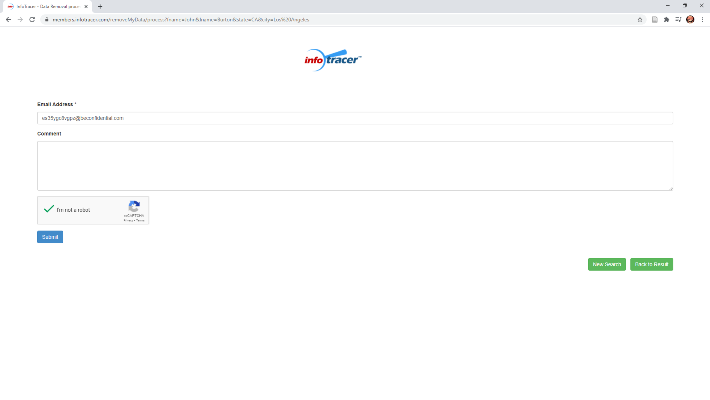 InfoRegistry Opt Out Compliance Department
P.O. Box 990043
Boston, MA 02199
Fax: (617) 507-0410

Bear in mind that InfoRegistry may be unable to process incomplete requests that lack proof of identification and any other vital information such as the applicant's name, address, and date of birth. Individuals should allow up to 30 days for their opt-out requests to be processed.
What Difficulties Exist when Opting Out of InfoRegistry?
InfoRegistry's opt-out process is a bit lengthy. Firstly, the site has a strict policy whereby only stipulated individuals can remove their information from the site. Secondly, the opt-out request requires detailed information from the requester, and any mistake can invalidate the application. Finally, opt-out applications are processed within 30 days, at least. As such, applicants must return to the site continuously to ensure that their information has been deleted.

Individuals who experience these or other difficulties can fill and submit the customer contact form on the site's Terms of Service page to leave a complaint with InfoRegistry's customer service team.

Note that deleting a record from InfoRegistry does not guarantee that it will not reappear on the site after some time.
Find out if your personal information is exposed
Start by entering your name and search through multiple data brokers