Please kindly note that DeleteRecords does not own or operate the third party brand listed on this page. The information provided on this page is provided for reference purposes only.
IntelRegistry is an online background check site that offers extensive non-FCRA public record searches. For years, IntelRegistry has collected more public records from government and private sources to provide members of the public with the best investigative service. Almost every public record can be recovered from the site, except confidential information such as financial and credit card data (including passwords and account numbers).

To access public records through IntelRegistry, an individual must register and subscribe for a membership plan—the direct package or unlimited package. Subsequently, the subscriber can view and obtain information from IntelRegistry's website.

To aid members in their investigations, the member's field incorporates over 30 different searches. Persons who pay for the direct package can access the following:
Birth records
Criminal records
Bankruptcy records
Federal records
Marriage and Divorce records
Property records
Social Security Number validation,
Vessel/Watercraft records
Warrant records

The unlimited package has everything in the direct package plus:
Likely neighbors
Address history
Possible relatives and friends, etc.

IntelRegistry advises against using the information found on their site for Fair Credit and Reporting Act (FCRA) purposes, such as tenant screening, employee appraisal, etc. This is because the service is not compliant with the Act.

Asides from obtaining consumer information from public databases, IntelRegistry gathers certain data from users to operate more smoothly. According to the site's Privacy Page, this information includes:

Information provided by the user during registration, opting out of the site, when the user contacts the site's customer care, and so on.
Information gathered during use. Cookies are used to collect this data. To avoid this, users may set their web browsers to reject cookies from IntelRegistry or warn them when a cookie is sent to their devices.

In addition, third-party advertising networks like Google collect non-personal information from users through cookies and web beacons.

IntelRegistry members and users can conveniently opt out of the service and have their details deleted from the site. This information may include results from background checks or personal data gathered by the company.
How to Opt-Out of IntelRegistry
Any person can opt-out of IntelRegistry if one of the following conditions exists:
If the person is a state, local, or federal law enforcement officer or public official, and the job puts such a person in danger of death or serious bodily harm.
If the party has been a victim of identity fraud.
If the individual is at risk of being harmed physically.
If the requester has proof that the record is incorrect or has been erased.

An individual who meets any of these requirements can then opt out by submitting the information listed below.
First, put the reason for the opt-out request in writing. Also, state the exact location of the data on the IntelRegistry website and where that data is publicly accessible (the URL of the profile or printout can be used).
Then, send a photocopy of your current driver's license or state-issued I.D. This will help IntelRegistry to confirm that the information belongs to the person requesting to remove it. Also, you can include any available court injunctions. Furthermore, the request must contain the following information:
Full name and any alias
Birthdate
Addresses, both past and present (Note that IntelRegistry will delete only the present address and two primary addresses).
Telephone number
Mail address

How to Opt-Out of IntelRegistry through InfoTracer
IntelRegistry is one of the data mining sites owned by InfoTracer. Therefore, a person automatically opts out of IntelRegistry by deleting a record from InfoTracer. To exit from InfoTracer's database, an individual must go through the online opt-out process. After that, the requested information will be removed within 72 hours. This process is stated below: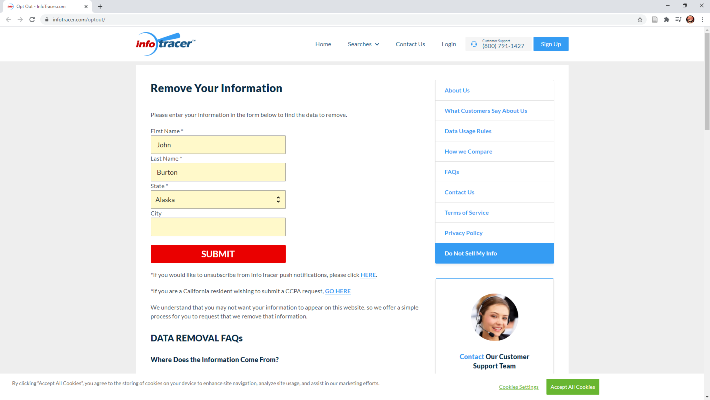 On the next page, input your first and last name in the fields provided and select your state. If you find your information, click "Remove My Data" next to the record.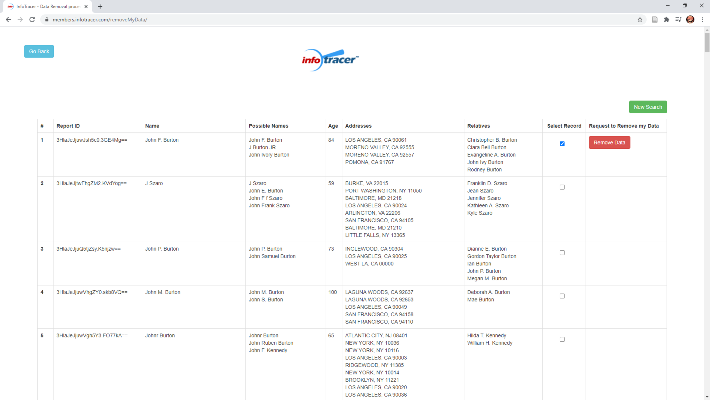 You will need to enter an email address (you can use a masked email) and complete the captcha. Once this is done, click "Submit." An email with a confirmation link will be sent to the supplied email address. You will need to click the confirmation link to complete the opt-out request.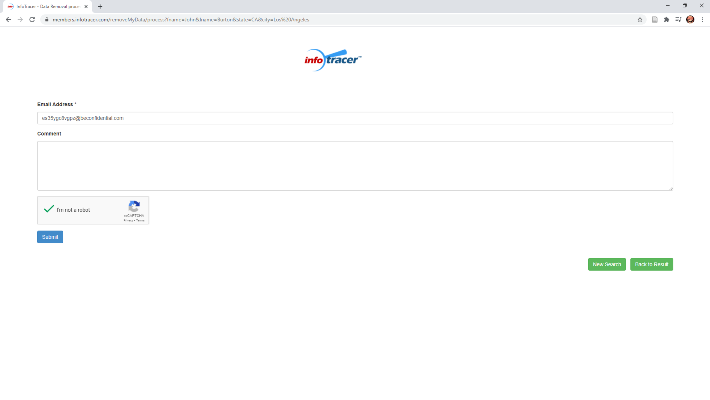 What Difficulties Exist when Opting Out of IntelRegistry
There appears to be no difficulty in opting out of IntelRegistry. According to the data broker, it takes 72 hours after requests have been made for a person's record to be deleted from the website.
Nevertheless, it is possible to find records on this website even after the request to delete is granted, and sending request after request to delete a record may prove futile. The website has an opt-out compliance department that deals exclusively with issues concerning opting out. However, the department can only be reached by fax at (617) 507-0410.
Find out if your personal information is exposed
Start by entering your name and search through multiple data brokers