Please kindly note that DeleteRecords does not own or operate the third party brand listed on this page. The information provided on this page is provided for reference purposes only.
Kiwisearches is an online people search engine that offers instant and inexpensive non-FCRA background checks. With a mission to give everyday people access to public information that is otherwise unavailable or difficult to obtain, the website provides a means for anybody of any age to:
Re-establish contact with lost family members.
Do some research on an online date.
Find an elusive person.
Plan a high school reunion or family reunion.
Get to know a neighborhood.
Ascertain that a child is safe in the company of other adults.
Find out who is calling or texting.

The search platform is profit-based. A monthly subscription allows a user to perform up to five searches with a phone number and ten searches with a name. After that, such members will be charged a fee for additional inquiries. However, visitors to the site who do not want to subscribe to a plan must pay per report. According to the Kiwisearches' disclaimer, there is no guarantee that the data on this site will always be accurate or up-to-date. Despite this, a requester will get charged even if the information is inaccurate or nothing comes up.
KiwiSearches has six types of public record searches:
People
Phone number
Criminal records
Sex offender records
Bankruptcy records
Liens & judgments

However, the site is not regulated by Fair Credit Reporting Act. Therefore, no one should use any information gotten from this site to perform the following acts:
Screen potential employees
Examine prospective tenants
Check a person's educational history
Determine if someone is eligible for credit or insurance
Harass or stalk another person
Commit a crime of identity theft

According to the site's Privacy Policy, Kiwisearches collects personal information when a person registers on the site, places an order, enters any information on the site, or provides the site with feedback on services rendered. This user information is used to process transactions, treat complaints, or send periodic emails.
Kiwisearches also uses cookies from Google Analytics and DoubleClick to gather information from users for marketing and advertising. It is possible to opt out of Google Analytics cookies by using an add-on for your browser. For other third-party, an individual can opt-out with the Network Advertising Initiative (NAI) Consumer Opt-Out and AdChoices tools.

Anyone who does not want to have their records on this site can request removal. Individuals also have the right to delete incomplete or inaccurate information.
However, there are some personal records that Kiwiwsearches is legally permitted to publish. Only the owner of the information or an authorized agent can request the removal of those records.

How to Opt-Out of Kiwisearches
A person can opt-out of Kiwisearches in two ways;
Opt-out of Kiwisearches membership
Opt-out of Kiwisearches records

To opt-out of a Kiwisearches membership plan, log into your account, click the "My Account" icon, select "Subscriptions," and then click "Cancel." However, if you cancel your membership within three days of signing up for a trial membership, you will be charged $5.95 as a cancellation fee. Note that opting out of Kiwisearches membership does not mean that your records are not on the site. To get personal records off Kiwisearches, follow the opt-out process indicated below: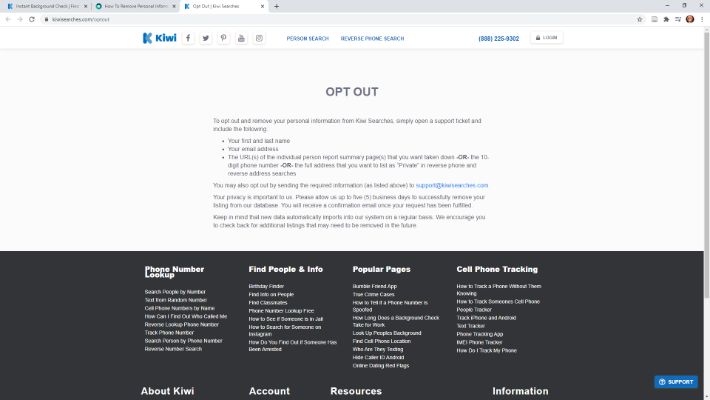 Search for your name. Once the search result produces your information, copy the URL of your listing.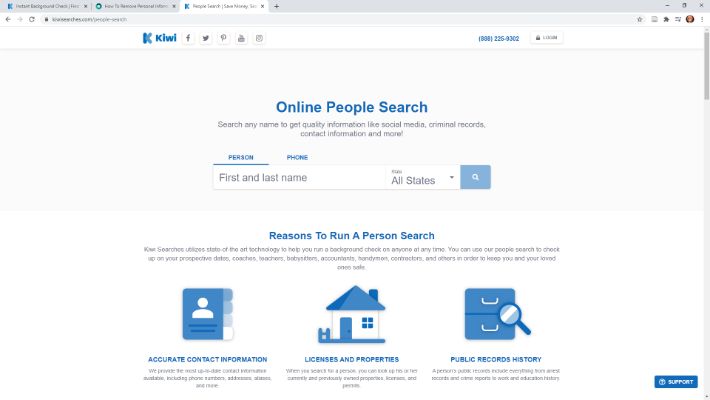 Send a mail providing your name, email, phone number, and address, just as it is on your record. You also need to include the URL you copied. Send the mail to support@kiwisearches.com, requesting that your information be removed from the website.
Once Kiwisearches receives the request, it will be processed within five working days and deleted from the site.

What Difficulties Exist when Opting Out of Kiwisearches
Opting out of Kiwisearches is easy. However, compared to other online data brokers, it takes a longer time to delete a person's information. The company operates a responsive customer team that handles any difficulty with opting out of the site. The team is accessible through the site's various social media platforms or via email at support@kiwisearches.com. Kiwisearches' customer care offers "round the clock" assistance. An individual can also call or send a mail to the address below:

Kiwi Searches Inc.
1660 Route 112
Port Jefferson Station, NY 11776

Phone: (888) 225-9302

Note that with Kiwisearches, as with many data brokers, a record can be found on the site after removal. Therefore, any person deleting a record from this site should do a periodic check to ensure that the record does not reappear at a later date.
Find out if your personal information is exposed
Start by entering your name and search through multiple data brokers