Please kindly note that DeleteRecords does not own or operate the third party brand listed on this page. The information provided on this page is provided for reference purposes only.
Neighbor.report is a non-FCRA compliant data broker site that allows individuals to publish information about their neighbors and local communities on the web. With its reviews feature, anyone in America can report neighbors for inappropriate behavior or thank them for being considerate. The site serves as a free, handy resource for potential homeowners or tenants, helping influence their buying decisions by informing them of troublesome neighbors.

Besides posting and viewing users' reports, individuals can use Neighbor.report's people, address, and phone number search engines to find information about residents. They can also use the "Find People" and "Find Address" tools for the same reason.

Whoever looks up an address on the site can discover nearby people, their phone numbers, and community reviews on the address (if any). An individual armed with a phone number can access the phone line's type, associated persons and their addresses, the phone carrier, and user reports. Meanwhile, searching a person's first and last name will show a person's rating, education, address (and map), proximate neighbors, phone number, and neighborhood reviews. Neighbor.report also links to BeenVerified (a fee-based service) to offer full people reports including criminal records, education history, bankruptcy record, address history, etc.

Furthermore, a user can activate alerts to know when someone reports a name, address, or phone number. Unlike other features of Neighbor.report, an individual must sign in or register to get alerts.

To provide its non-FCRA (Fair Credit Reporting Act) data to users, Neighbor.report obtains information from public sources, including open court records, social networks, phone books, real estate records, and more. This information should not be used for FCRA purposes, for instance, in determining housing, employment, insurance, personal credit, etc.

Given the amount of personal information available on the website, both published by users and the site, privacy is a major concern, as is wrong, misleading, or false information. Therefore, Neighbor.report permits removal requests for people who do not want their information exposed online in that manner.

How to Opt-Out of Neighbor.report
Neighbor.report provides a manual opt-out process that individuals can complete to pull down their information from its site. This process is as follows: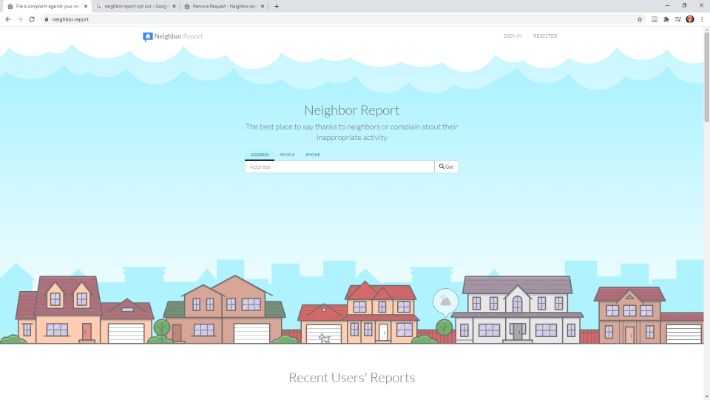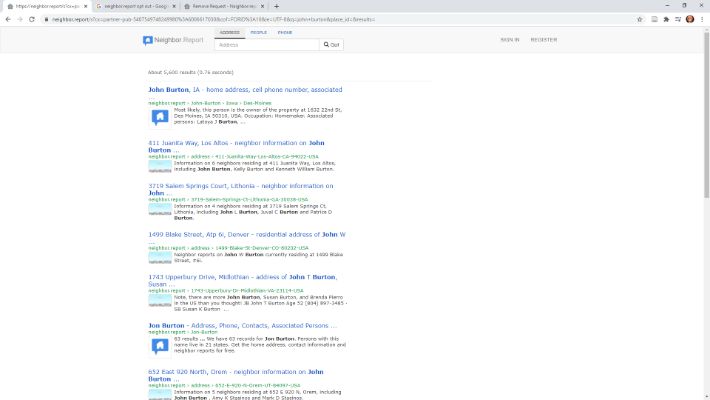 Scroll down to the removal form. Fill the form by providing your name, email address, the URL of the page where the content is published, and residential address. Note that you can obtain the URL by using the site's name, address, or phone number search tool to find the relevant page.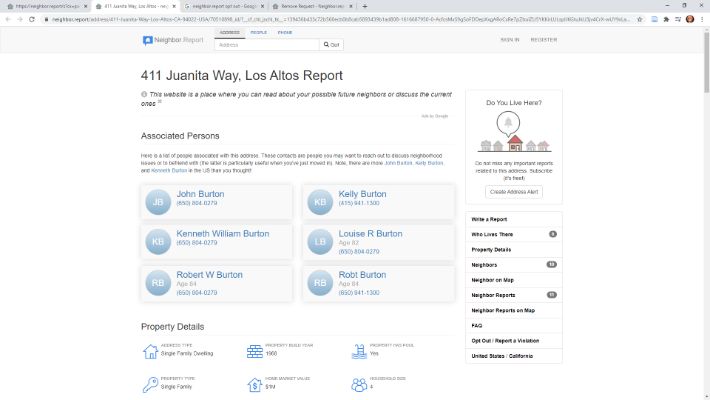 After filling the form, select all applicable reasons for the request. There are six reasons that a requester may choose:
Abusive behavior
Harassment
Copyright or trademark infringement
Publishing of private information
Publishing of false or misleading content
Unlawful purpose or promoting illegal activities
Then, check the reCAPTCHA and click "Next Step."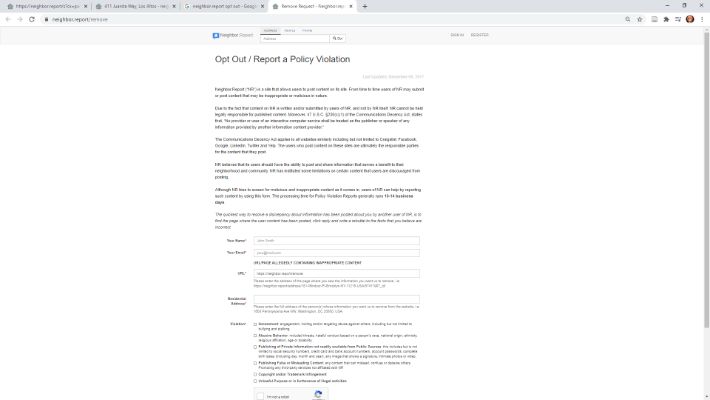 On the following page, select the "Remove" button next to the name or phone number you wish to delete. Then, select "Apply."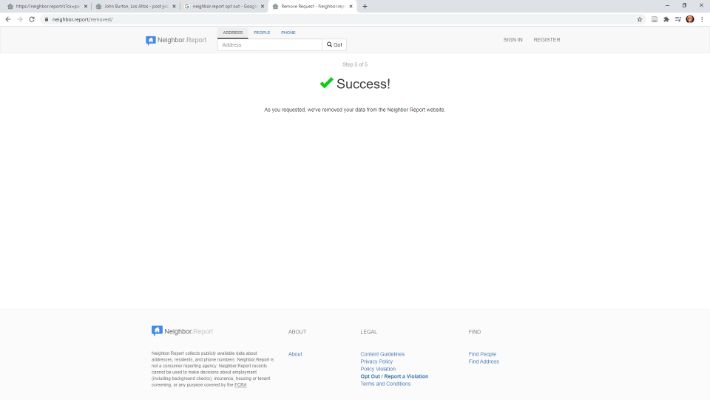 Neighbor.report's record removal process is immediate. As such, requesters do not have to wait a length of time for their listings to be deleted from the site.

However, for false or incorrect reviews posted by users, Neighbor.report recommends that the affected party find the relevant page where the information was published and reply with the correct facts.

What Difficulties Exist when Opting Out of Neighbor.report
Although Neighbor.report offers an easy procedure to remove personal/private information from its site, there are still several difficulties that an individual may encounter during and after the opt-out process. Some of the popular ones include:
Broken links to the opt-out page.
The information may still show up on major search engine result pages, like Google, after opting out from Neighbor.report.
No obvious business contact information for inquiries or complaints.
Submission of the opt-out form repeatedly, yet the record still remains on the site.
Removing personal data from the site successfully, only to see it again after a while.
Regarding content removal complaints, a concerned party may reach out to the website at help@neighbor.report. Note that Neighbor.report does not have any other contact methods.
Find out if your personal information is exposed
Start by entering your name and search through multiple data brokers