Please kindly note that DeleteRecords does not own or operate the third party brand listed on this page. The information provided on this page is provided for reference purposes only.
NJParcels is an information broker that compiles New Jersey real estate data. The site helps users to look up information on landowners and properties. NJParcels extracts data from official public databases and provides parcel, GIS, and demographic data to interested parties who want to obtain complete property records. Of the 3+ million properties scattered all over New Jersey, NJParcels provides the following information on every single one of them:
Complete tax assessments
Recent sales data
Listings of comparable sales
Lists of real properties in common ownership
Certified notification/mailing lists, etc.
According to the site's disclaimer, using NJParcels to collect information or verify details about an individual's property is done at the searcher's expense. Furthermore, NJParcels disclaims liability for any harm, loss, disturbance, or injury that results directly or indirectly from the use of the website's content. Users are advised to exercise due diligence by conducting independent investigations after obtaining information from the site.
Residents and property owners who have real estate records or personal information listed on NJParcels can easily remove their data by opting out of the site.
How to Opt-Out of NJParcels
NJParcels provides a redaction page for property owners in New Jersey who want to opt-out or prevent their information from showing up in property search results. Interested owners can opt-out of NJParcels as follows: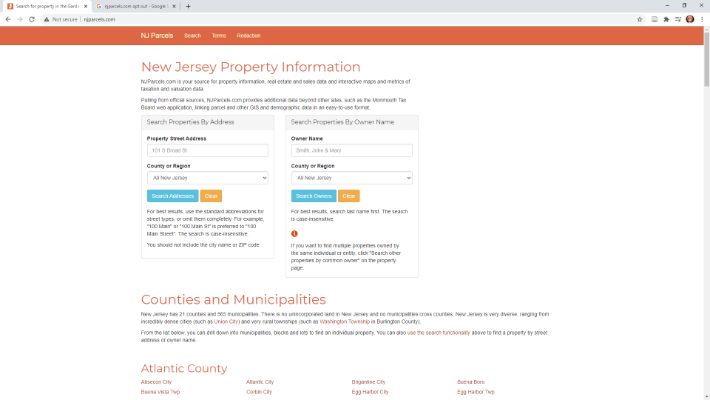 Use the "Search property by address" or "Search property by owner's name" tools to find the property record of interest.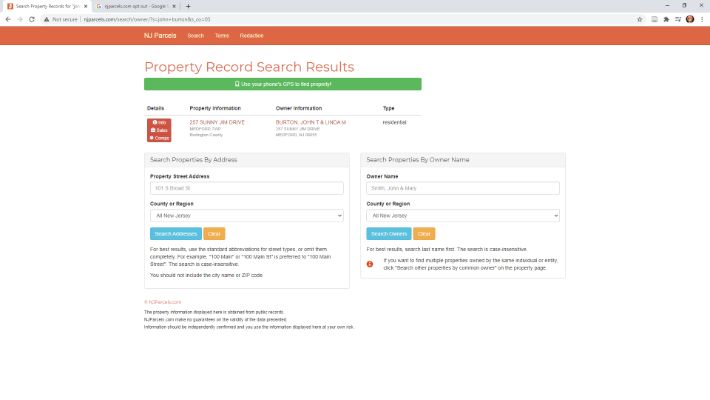 After inputting a search query, the site will redirect to another page containing corresponding properties. Select the relevant listing and copy its URL.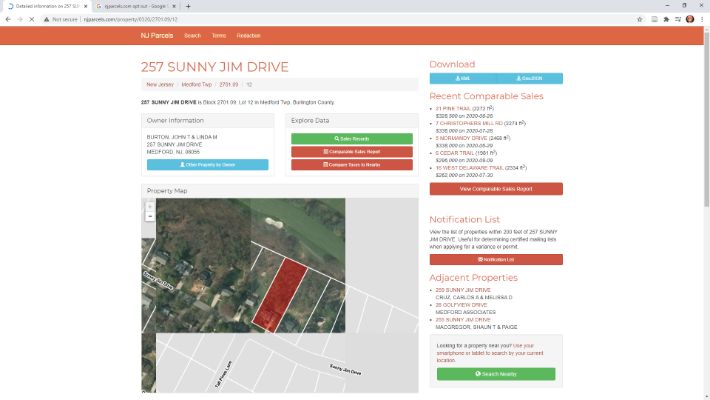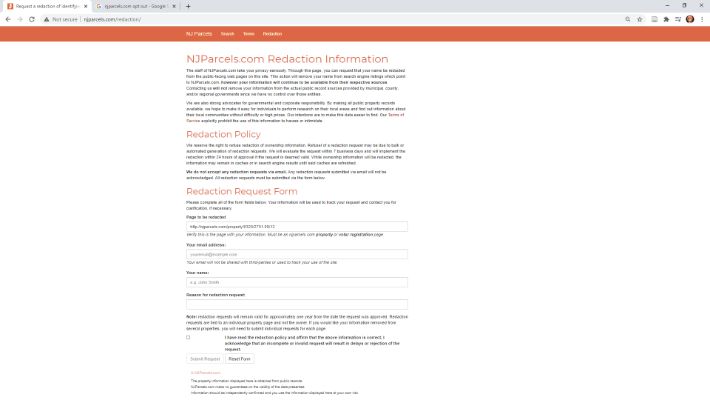 Complete the redaction request form by pasting the URL of the page to be redacted and entering a name and email address. You can also state a reason for requesting the redaction of a property record.
Agree with the redaction policy and click "Submit request."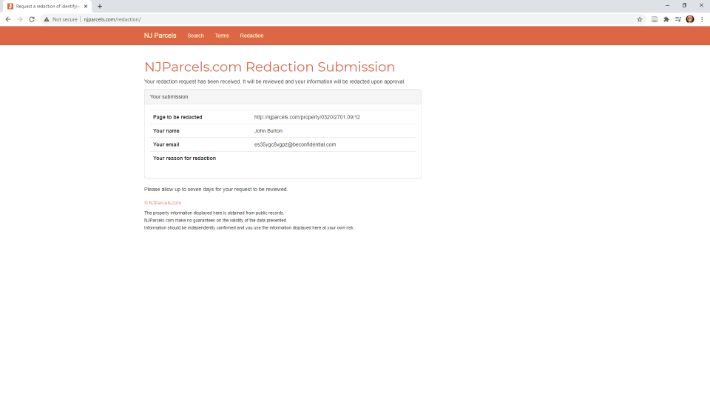 Once the request is submitted, NJParcels will review the application then approve it. The approval of a redaction/opt-out request takes about 7 working days. Afterward, it should take another 24 hours before the record is removed from NJParcels.
Note that only one property record can be removed with a redaction request. This means that if an individual has several properties listed on the site, the party must fill out a redaction request for each of them.

What Difficulties Exist when Opting Out of NJParcels
Opting out of NJParcels is cumbersome. First of all, it takes 7 working days for requests to be approved, with implementation taking an additional 24 hours after approval has been granted. Secondly, the website does not entertain opt-out requests by any means other than the one provided online via the redaction page.
Also, there is the possibility that requests will not be approved within 7 days, especially if there are many opt-out requests to process. Persons whose details are still showing on the website after 7 business days can file a new redaction order. On the form, indicate that this is a second submission.

Furthermore, opting out of NJParcels will only remove information from the website. Such information will remain in public spaces (government and other private repositories), which NJParcels has no control over.

Finally, a person can only request to remove property information from NJParcels for a year. After that, the information will be back on the site, making it necessary to repeat the opt-out process every year.
Find out if your personal information is exposed
Start by entering your name and search through multiple data brokers