Please kindly note that DeleteRecords does not own or operate the third party brand listed on this page. The information provided on this page is provided for reference purposes only.
PeopleSearchExpert equips users with consumer data to help them connect with old school friends, check the reputation of their neighbors, find lost family members, and confirm people's identities. The non-FCRA compliant public records provider has a U.S. people search engine to this effect. Users or visitors can input a first and last name to access publicly available information about any person residing in the United States. They can also filter search results by including a city or state in their search queries, or find people by their last names using the site's browse feature (located at the lower section of the homepage). The website holds records on over 70 million U.S citizens.

PeopleSearchExpert is a free service. This means that users can quickly and anonymously obtain information without subscribing to a payment plan or creating a user account. Accessible data includes:
Full names
Age
Address
Relatives

However, individuals who search for a person, find the information above, and yet, want to access more details can click the "View Record" button. This redirects them to a fee-based partner site: TruthFinder. There, the searcher can use a person's full name, city, state, and age to acquire extensive reports.

Because PeopleSearchExpert displays non-Fair Credit Reporting Act (FCRA) data, its records should not be used for any matter requiring FCRA compliance. For example, in determining employment, personal credit, benefits, insurance, tenancy, or other uses permitted by the Act. Users are also advised to vet any information obtained from the site, as it should not supersede a conventional background check.

Of course, the availability of consumer information on PeopleSearchExpert can present certain risks such as identity theft or harassment to people who have their information listed on the site. Therefore, PeopleSearchExpert provides a simple opt-out form to remove records. However, individuals will have to produce a solid reason for removal because, according to the FAQ section of the site, PeopleSearchExpert views all information on its website as public.

How to Opt-Out of PeopleSearchExpert
Individuals who want to opt-out of PeopleSearchExpert can follow the detailed guide below to delete their information: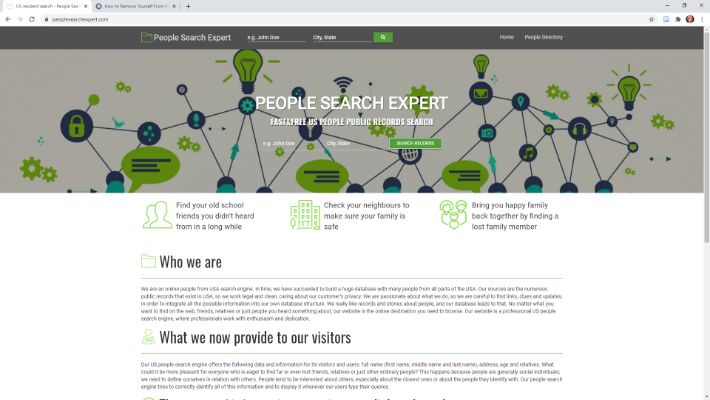 In the search engine, enter your first and last name, city, and state to locate your record.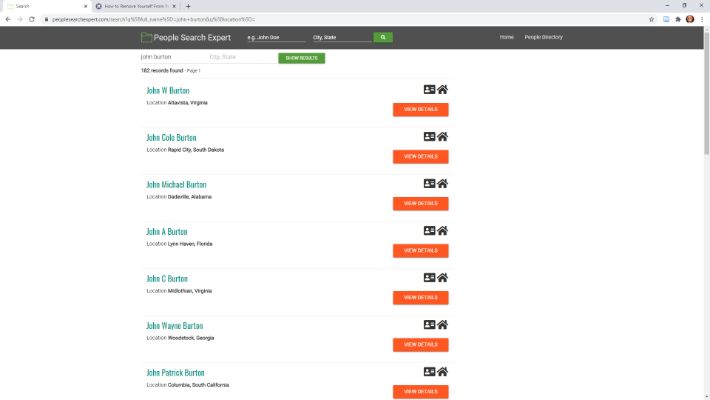 Scroll through the search results to detect the correct listing and then click your name. This will open another page where records are sorted by a person's age.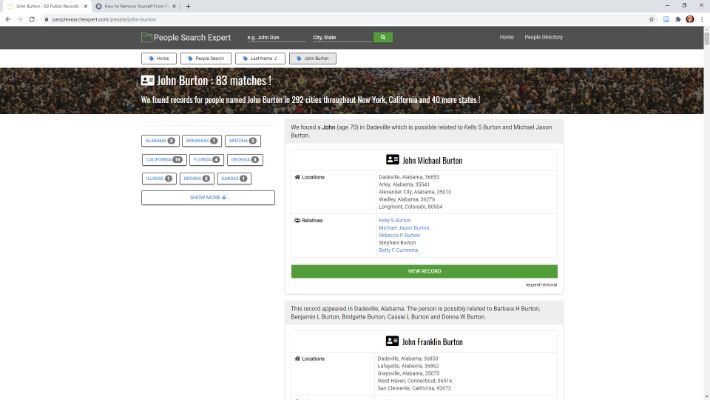 Again, browse the records list on the page to locate the matching record. At the lower right-hand side of each record box, there is a 'Request Removal' link. Once you see your record, click this link to be redirected to the removal request page.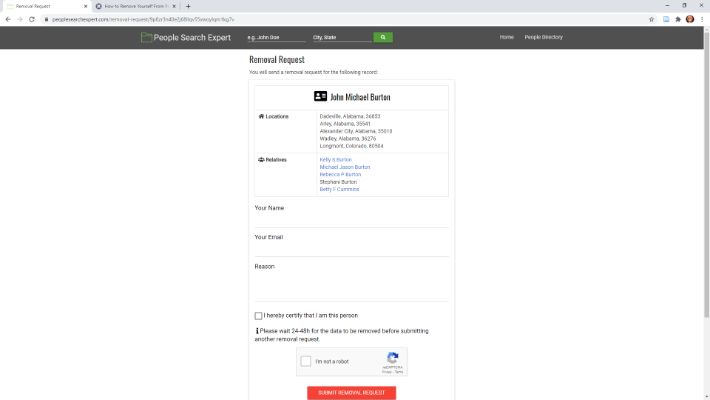 Input your name, email, and reason for the request onto the form. Then, check the box certifying that you are the owner of the record, answer the CAPTCHA, and click 'Submit Removal Request.'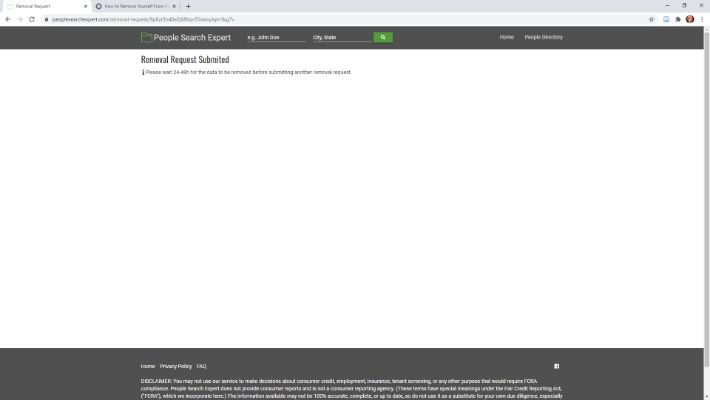 PeopleSearchExpert approves content removal requests within 24 to 48 hours. Requesters are advised to wait for that amount of time before sending any other removal application.

What Difficulties Exist when Opting Out of PeopleSearchExpert
The difficulty in opting out of PeopleSearchExpert is similar to that of other data aggregator websites: there is no guarantee that a person's information will not be reuploaded on the site. In fact, the odds of this happening are quite high because these sites quote data from official government records and each other. This can make it somewhat impossible to completely take down personal information from the internet because if the data is available on one, it is most likely accessible via others. Therefore, an individual will have to complete the opt-out procedure of each site, which can be a grueling experience, or employ a content removal company to delete this information as it reappears, whether on PeopleSearchExpert or other third-party/partner sites.

It is advisable to conduct frequent audits on PeopleSearchExpert to ensure that no new information turns up after removing a record. While several data broker sites provide contact information to users for these complaints and inquiries, PeopleSearchExpert does not. As such, individuals do not have any contact options other than a Facebook page, which mostly looked dormant as of April 29, 2021.
Find out if your personal information is exposed
Start by entering your name and search through multiple data brokers