Please kindly note that DeleteRecords does not own or operate the third party brand listed on this page. The information provided on this page is provided for reference purposes only.
Searchquarry.com is an aggregate website that provides interested persons access to publicly available records through a name-based background check, phone number search, and vehicle owner identification through license plate and VIN search.
The phone number and name-based search are linked because both provide a searcher with publicly available criminal records, court records, inmate records, employment records, property records, vital records, social profiles, and sex offender information.
Searchquarry sources information from its proprietary database, public databases on the internet, record requests to government record custodians, affiliate websites, and data brokers. Integrating its database with information collected from these sources helps Searchquarry provide comprehensive reports to clients who pay for the service.
But while the aggregate website provides publicly available records linked to the name or phone number of interest, these records are not compliant with Fair Credit Reporting Act (FCRA) standards regardless of the content of these records.
Meeting federal standards per the FCRA means that the public records service provider must guarantee the accuracy of the information on its database. However, because Searchquarry indexes information from multiple databases and does not vet the records, there is no guarantee of the authenticity of the public records retrieved from a search. That means the information from Searchquarry only serves to satisfy general curiosity and perform a basic background search. Simply put, it is an information reporting website to help you avoid misinformation about acquaintances and prospective business associates.
Consequently, searchers may not use the reports for tenant screening, employment screening, confront a partner about their past, or even a suspected criminal. To do any of these, the searcher must confirm the authenticity from government sources. Independent service providers that meet FCRA standards may also serve this confirmation purpose.
Nevertheless, most clients choose Searchquarry for the relatively inexpensive access to publicly available records compared with getting the public records from official custodians and compliant service providers. Searchquarry offers one-time billing packages for persons looking for reports on one person at any time. Regular membership, billed monthly, provides broader and unlimited access to publicly available records on Searchquarry.
Meanwhile, clients who use Searchquarry or even visit the website must know that the aggregate website collects information on them during their use and interactions with the services on the database. The extent of this data collection include:
Information Searchquarry requests: At various points while using the website or interacting with resources, Searchquarry will request that clients or visitors provide specific personal and financial information. These include photographs, name, email address, physical address, business name, and credit card information. There is no way to prevent providing correct details if you intend to use Searchquarry services. But users can rest assured that the website stores the information securely according to its privacy policy.
Information users provide at other times: These include when users provide feedback, comments, or reach out to customer support. Searchquarry also collects technical information such as the user's device, internet service provider, and timestamp. Since Searchquarry collects most of this data through cookies, clients can sidestep by using a virtual private network. In-built browser features also help to delete or reject third-party cookies and avoid tracking.
Search history and analytics: Searchquarry collects and stores client's search history, terms entered, frequently accessed pages or features, calls and messages placed using tools it provides, and similar analytics about the use of the website or services. The information provider claims it collects these data to optimize the user experience, send promotional offers and advertisements. Search quarry collects this data by storing cookies on the user's device, and you may use several ways to sidestep monitoring.
Information collected from third parties: Searchquarry uses proprietary tools and third-party analytical software to automatically collect certain information without any active submission by the user. Some of these include Google Analytics, cookies, clickstream, and web beacons. Searchquarry uses these tools to gather non-personal information about users and user activities, including age, gender, race, religion, and household income. Using a privacy-focused browser or browser add-ons also helps clients bypass tracking and monitoring.
How to Opt-Out of Searchquarry
Persons whose data appear on Searchquarry may request removal. Current users of Searchquarry may terminate membership at any time, cancel billings, and remove their account from the service to stop data collection actions.
Individuals who wish to delete their data from Searchquarry:
These individuals may remove their information from Searchquarry electronically or manually.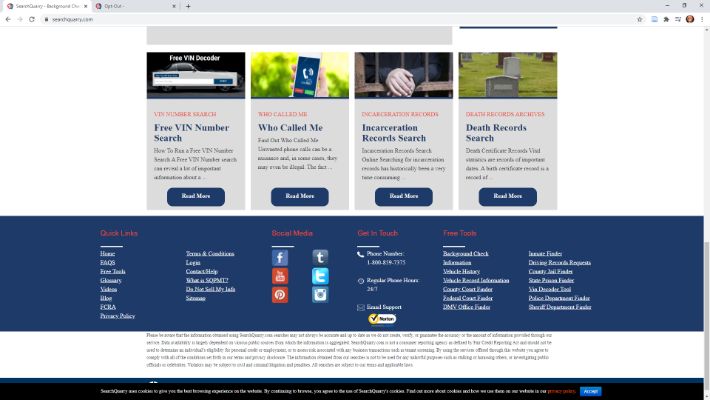 Perform a name, phone number, license plate, and VIN search to know the extent of your records on the website.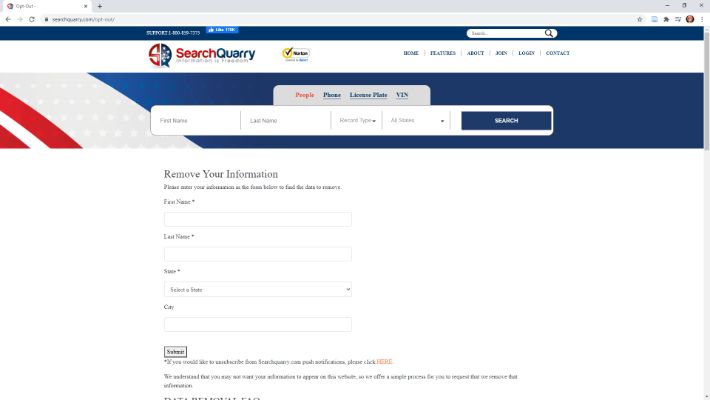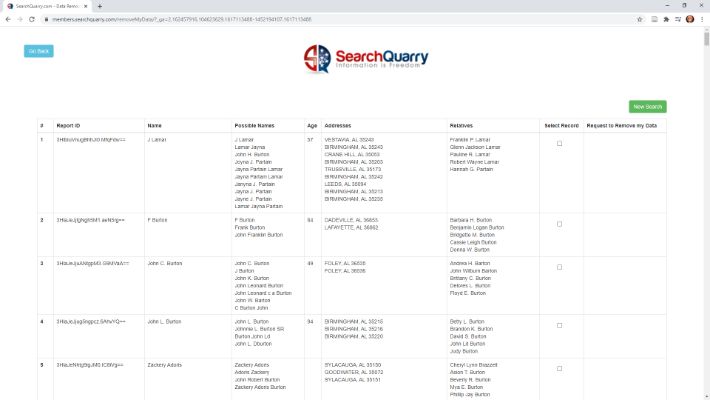 A manual request for removal involves sending a fax or mail request introducing yourself and stating the instances where your information appeared (it helps to include URL links to the result).
Data Management Department
Search Quarry, LLC
401 Ryland ST STE 200-A
Reno, NV, 89502
Fax: (775) 313-9862
Existing clients who wish to remove their data
Members may visit the data removal page to opt out and prohibit Searchquarry from sharing or selling their personal information and data. Alternatively, you may use the contact form to stop Searchquarry from using your personal information and remove it from its servers and database. However, the information provider will take reasonable steps to verify your identity before granting the request.
What Difficulties Exist when Opting Out of Searchquarry
Despite the available ways to avoid tracking, request data removal, and stop Searchquarry from selling or sharing your information, concerned persons still face difficulties viz-a-viz:
Data may reappear in the future: Searchquarry will complete your data removal request, but it cannot guarantee that the records will not reappear on the database in the future. This challenge is because Searchquarry continually indexes its data sources for publicly available records.
Availability on other databases: Searchquarry does not directly control the indexing of public records from private and public databases. Thus, your public records may still appear on public and private sites and search engines directly or indirectly affiliated with Searchquarry. For example, your court records and criminal records will remain with law enforcement and courts unless to request an expungement or sealing. Still, databases that got the public records before the restrictions will maintain their access.
Data availability pending removal: Until Searchquarry deletes the data following your request, the information remains available to interested persons. Thus, the earlier you submit a request for data removal, the sooner you protect your privacy.
Find out if your personal information is exposed
Start by entering your name and search through multiple data brokers